[August, 2007] Want to know how do we know our Country Neighbor was an angel sent by God to keep us humble? Because she agreed to watch our animals, including our first batch of chickens. For a week! What transpired during our absence can only be described in her words. This is when we learn our first ever "Life on a Farm" lesson: Without a doubt... Chickens Are Stupid. Batter up!!! [more...]
[March 2008] There's a reason I called my chicken news e-list, Ditsy Chix. It was determined early on, after our Country Neighbor graciously submitted to watching our animals in the Summer of 2007, that "Chickens Are Stupid." But nothing prepared us for the batch of Leghorns, incubated in public school classrooms. Our amazing and eye-opening story begins in the Spring of 2008. [more...]
[January 2009] Our first attempt at feeding out and butchering a couple of pigs was a success. And the icing on the cake came in the form of Jessica getting an invitation to an authentic Kielbasa Making Party at her Aunt Julie's. Brave girl. Real casings! Tasty results! [read more...]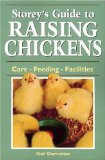 Check out the Recommendations Page for more books, movies, even cars I recommend.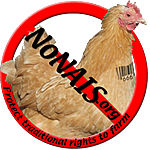 ALERT!
New information as of Feb. 2009. Even with the TRILLIONS of dollars going towards the socialization of our country, our government is determined to make it worse by implementing the NAIS program. This is another nail in the coffin being prepared for an economy that is being killed by the virus of Socialism. Click the image above to learn more.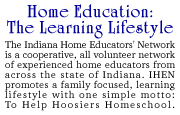 Homeschooling is not a pedagogy, it's a lifestyle.
The education of our children is as much a part of a parent's responsibility as food, clothing and shelter. Yet we force children to put in more "school time" than family time. No wonder there is a disconnect between children socialized in Public Schools, and children reared by their parents. Learn more about homeschooling at IHEN.org and on the IndianaHomeschoolers E-list Community. IHEN as been Helping Hoosiers Homeschool since the turn of the century.™