First and foremost, we call them The Ladies. The laying hens we had left from our first dozen chicks, have earned "Permanent Farm Animal" status, and are banded with a blue leg band. The Ladies are the matriarchs of the coop and will forever rule over the rest of the flock as long as they cluck.
The Ladies Are: Butterscotch, Lacy, Oreo, Penny, Smudge. (In alphabetical order. We have never been sure what the pecking order is with this crew.)
We've been raising them since the spring of 2006. It's a long story and an interesting one at that. I started a journal site, where you can read more about The Ladies and the rest of the flock.

I also included a newsletter service on YahooGroups to keep people updated on sale schedules and journal updates. So check that out too.
For more stories of my life as a Faux Farmer, go to our News and No News pages.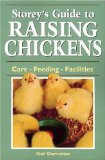 Check out the Recommendations Page for more books, movies, even cars I recommend.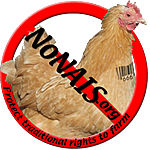 ALERT!
New information as of Feb. 2009. Even with the TRILLIONS of dollars going towards the socialization of our country, our government is determined to make it worse by implementing the NAIS program. This is another nail in the coffin being prepared for an economy that is being killed by the virus of Socialism. Click the image above to learn more.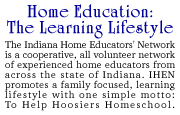 Homeschooling is not a pedagogy, it's a lifestyle.
The education of our children is as much a part of a parent's responsibility as food, clothing and shelter. Yet we force children to put in more "school time" than family time. No wonder there is a disconnect between children socialized in Public Schools, and children reared by their parents. Learn more about homeschooling at IHEN.org and on the IndianaHomeschoolers E-list Community. IHEN as been Helping Hoosiers Homeschool since the turn of the century.™