The Promised Farm > Send us an e-mail

Yes, there's a story behind why we called it The Promise. I promised to share it, and you'll find a link to it on our No News page.
For now, though, we'd just like to use this site as a kind of MySpace for our family farm. (Without all the Emo stuff. And no... there's no place where you can become my "friend.") We will, however, use this space to update friends and family on News of what's going on around here and about, without bogging down in the minutia of our relatively normal lives. Do you really want to know what we had for lunch yesterday or what we thought of the latest American Idol Idols? I thought not. Besides, we've been too busy to watch TV (not that we've had it hooked up for over two years);)
What's more interesting than TV? Well... we've been embroiled in a Pos'm War! since December. Want to find out how that ended? Maybe it's not over yet. You can check that out in the News Section as well.
In the No News (is good news) Section, we've just posted an article about the NAIS Animal Identification system that the government tried to implement in 2008, and might see light of day again. This will be good reading so you can be informed. Go directly to the No NAIS article here.
I started a Stories Page where we can share our family stories. Jessica wrote a nice piece on her experience becoming Polish for a Weekend while making Kielbasa from the pigs we raised ourselves this summer. She's becoming quite the story teller.
We're in the process of deciding to raise more chickens — yes, for eggs. Sure, a few in the freezer, but The Ladies are becoming kind of fun to have around. (Don't tell Country Wife.) The extra eggs are going to our good friends who are quickly becoming our good customers. Producing something that others use and appreciate creates a great feeling.
So this is farming!! I think I'm getting used to it. But I'll never get used to Stinkin' Pigs. Did I mention we found a couple of pigs this past summer? Well... our neighbors found them for us, and I find myself once again in the position of being an Accidental Pig Farmer. Not that it won't be without its perks in the end, but it hasn't been without its — interesting moments. Now (Jan. '09) they're in the freezer, the PITA factor of feeding them out is slowly passing with every BLT.
I started a separate site to keep people up to date on when our eggs are available, and where you're getting them from. If you want to subscribe to our YahooGroups Newsletter [DitsyChix] you can go to either www.DitsyChix.com or directly to the YahooGroups site and sign up. It's free, and low volume. I even have realistically low hopes and expectations that it will be a mildly entertaining.
You can write to me by responding to any DitsyChix post (if you subscribe to the newsletter) or e-mail Farmer Ben @ The Promised Farm
Thank you. And stay tuned for more as we build our site and grow.


Reluctant Farmer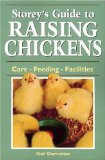 Check out the Recommendations Page for more books, movies, even cars I recommend.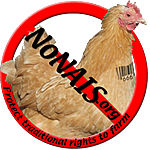 ALERT!
New information as of Feb. 2009. Even with the TRILLIONS of dollars going towards the socialization of our country, our government is determined to make it worse by implementing the NAIS program. This is another nail in the coffin being prepared for an economy that is being killed by the virus of Socialism. Click the image above to learn more.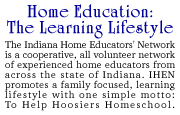 Homeschooling is not a pedagogy, it's a lifestyle.
The education of our children is as much a part of a parent's responsibility as food, clothing and shelter. Yet we force children to put in more "school time" than family time. No wonder there is a disconnect between children socialized in Public Schools, and children reared by their parents. Learn more about homeschooling at IHEN.org and on the IndianaHomeschoolers E-list Community. IHEN as been Helping Hoosiers Homeschool since the turn of the century.™