The Promised Farm > News > New News | Old News | No News (articles and opinion) > Why The Promise?


Good question. Part of the answer lies in Country Wife's family history. They once owned a property that they fondly called "The Promise." Country Wife and I would spend a day or two down there in Southern Indiana, camping, working on the cabin, and canoeing. Lots of fond memories.
As our family grew, and the expenses involved in boarding our horses grew with the number of horses we were suddenly finding we owned (two, to three, to four) it became obvious we needed to start looking for a larger piece of property in earnest.
Being a praying bunch, we gave the search criteria to God. There's nothing more liberating than leaving the big, complicated problems up to God. There's also nothing more exasperating, frustrating and downright scary.
How will we know? When will we know? Doesn't God know we have a timetable? Doesn't He know we need this place now, Now, NOW?!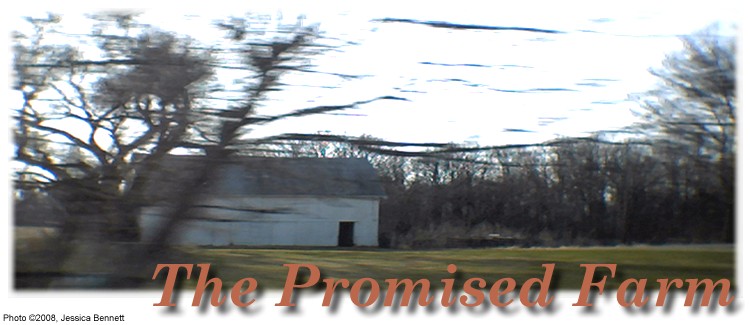 Well, of course He does. And frankly, between you and me, I don't think God very much cares what WE think about a matter.... Otherwise, He would have given Job a break when Job pleaded at the top of his lungs: "Hey God... my family has been totally wiped out and on top of it all, this rash is getting a little out of hand. Can I get a little help here?" [Movie Recommend: Evan Almighty]
lt's not like I didn't do a lot of searching and driving and driving and searching. It's not like I didn't call several agents and tell them what we were looking for. I did all that. And looking back on it, I'd been doing those things in earnest for close to two years! The whole while, Country Wife was maintaining an amazing calm. There was of course the occasional question: "Are you looking for a place?" The occasional answer sounded something like: "Sure... I'm looking through the classifieds right now. I drove aimlessly through three counties just the other day. And I am just about to start checking on ... What's that?
"NO, I wasn't lost."
Much.
This went on for what seemed like forever, causing me to question whether I was praying right, listening right, or God was listening to me at all. It was hard to remember that God's promise is a promise, no matter how small. [Movie Recommend: Horton Hears a Who]
Eventually, I stumbled upon a for sale sign off of a small two-lane highway Found the driveway, drove up, looked around and thought, "This is it."
Yup, it was just that simple. Truly an "I'll know it when I see it," moment. The sale went fairly quickly and smoothly. Turns out our neighbors also homeschool and when we learned that good news, we knew that God truly does keep His promises.
After bringing the horses over, we slowly began adding other animals. Three dogs, five rabbits, dozens of goldfish, a couple dozen chickens, more horses, barn cats and more barn cats and finally two pigs which we took from piglets to freezer. The "farm experience" completed, it was time to name the place. Seeing as how we were seriously thinking of selling major eggs soon.
This farm is what we were promised, so that became the name: The Promised Farm.
It's not the fanciest story in the world, but that was the way it happened. It is what it is.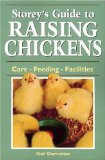 Check out the Recommendations Page for more books, movies, even cars I recommend.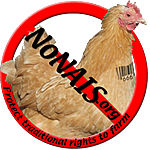 ALERT!
New information as of Feb. 2009. Even with the TRILLIONS of dollars going towards the socialization of our country, our government is determined to make it worse by implementing the NAIS program. This is another nail in the coffin being prepared for an economy that is being killed by the virus of Socialism. Click the image above to learn more.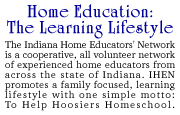 Homeschooling is not a pedagogy, it's a lifestyle.
The education of our children is as much a part of a parent's responsibility as food, clothing and shelter. Yet we force children to put in more "school time" than family time. No wonder there is a disconnect between children socialized in Public Schools, and children reared by their parents. Learn more about homeschooling at IHEN.org and on the IndianaHomeschoolers E-list Community. IHEN as been Helping Hoosiers Homeschool since the turn of the century.™