The Promised Farm > News > New News | Old News | No News (articles and opinion)

090101
Happy New Year! We spent the evening of the last day of 2008, watching videos [The Pirates Who Don't Do Anything, Horton Hears a Who and episodes of The Dick Van
Show] and almost forgetting to check the clock. We yelled in to sleeping Country Wife sometime around Midnight, heard a grunt, and that was that.
Marveling still, that we have not received broadcast or cable TV in the house since we moved in. Over two years now. Time will tell if we've raised socially warped children. Something tells me that if we do... it won't necessarily be because we didn't watch TV.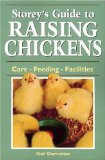 Check out the Recommendations Page for more books, movies, even cars I recommend.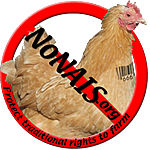 ALERT!
New information as of Feb. 2009. Even with the TRILLIONS of dollars going towards the socialization of our country, our government is determined to make it worse by implementing the NAIS program. This is another nail in the coffin being prepared for an economy that is being killed by the virus of Socialism. Click the image above to learn more.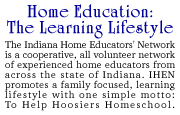 Homeschooling is not a pedagogy, it's a lifestyle.
The education of our children is as much a part of a parent's responsibility as food, clothing and shelter. Yet we force children to put in more "school time" than family time. No wonder there is a disconnect between children socialized in Public Schools, and children reared by their parents. Learn more about homeschooling at IHEN.org and on the IndianaHomeschoolers E-list Community. IHEN as been Helping Hoosiers Homeschool since the turn of the century.™